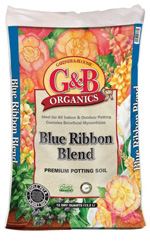 An exceptional potting soil for indoor and outdoor containers.




Have a Look
Around the Site:
March
Vegetables to plant
You can plant a wide variety of cool-season and warm-season crops. Select from beet, cabbage, carrot, chayote, corn, endive, kale, leaf lettuce (and European salad greens such as arugula and the savory mixes called mesclun), New Zealand spinach, onion, pea, potato, radish, sunflower, Swiss chard and the early varieties of tomato. Wait until April or May to plant other varieties of tomatoes.
Contact Information:
E-Mail:
Click to e-mail us.
Telephone:
(562) 804-2513
Address:
6220 Lakewood Blvd
Lakewood, CA 90712
Hours:
Monday through Friday: 7:30 - 5:30
Saturday: 8:00 - 5:30
Sunday: 9:00 - 4:30

Helps produce more abundant, better tasting and more nutritious vegetables.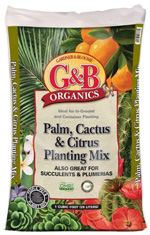 Especially formulated for the needs of palm, cactus, citrus & succulents.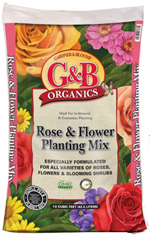 Ideal for a variety of in-ground and container planting.
Featured Quote:

"I appreciate the misunderstanding I have had with Nature over my perennial border. I think it is a flower garden; she thinks it is a meadow lacking grass, and tries to correct the error."
~Sara Stein, My Weeds, 1988

Spring and Summer Hours
Monday through Friday: 7:30 - 5:30
Saturday: 8:00 - 5:30
Sunday: 9:00 - 4:30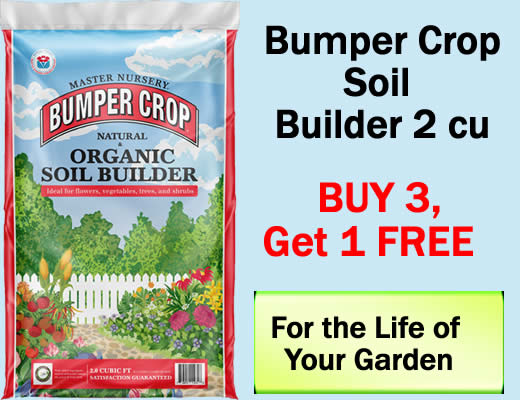 Buy 3 Bags of
Master Nursery Bumper Crop,
Get the 4th Bag FREE!
Subject to stock on hand. Cannot be combined with any other offer. Special ends 3/31/20.
Pothos (Epipremnum aureum) is one of the best known houseplants out there. Tolerant to low light, infrequent watering, and outright neglect, it is best known for its shiny leaves, long, draping foliage, and its ability to purify air where it is kept.
Depending on conditions, Pothos will grow shoots that are as long as 6-10' long, dangling from the outside of its pot, In the tropical climates where it is native, these can be as long as 40'. This makes it ideal in a hanging basket. Pothos can survive with minimal sunlight, but cannot do entirely without, so plan to place it in a room with a window. It will also do fine under the bright fluorescent tubes most offices have, so if you want to take it to work with you, don't worry about windows.
Care for this is very simple. Let the dirt dry out before watering again. Too much water can cause root rot and wash out nutrients in the soil. Too much watering will cause drooping and possibly black spots on the leaves. The best way to tell if it needs water is to use a finger and dip it into the soil. If you get wet dirt on your finger, wait a couple more days.
They prefer slightly acidic soil, but as long as your soil drains well, it should be fine. The plant can either be allowed to grow long vines to drape down around it, or pruned up to give it a bushier shape. As with any plant, confine your trimming to less than 1/3rd of the volume of the plant.
When the leaves start to regularly droop, even upon watering, it is a good sign that it's time to transplant into a larger container. If you're cursing your black thumb, or just hoping for some low-maintenance greenery in your home, give Pothos a try.
Prized by gardeners for their beauty in the landscape and by flower collectors who proudly display their colorful blooms in elaborate crystal bowls, Camellia japonicas are enjoying renewed popularity across the world. Their classic-shaped flowers herald the spring, and each year new hybrid varieties are introduced to delight collectors everywhere.
Camellias were first introduced from Asia to the West in the early 18th century by a Jesuit priest named George Karl Kamel, from whose name camellia is derived. Since then, plant hunters have been searching for camellia species growing wild in China, Japan and throughout the Pacific Rim. Growers then take these new plants and use them to create new hybrids for the home landscape.
Because camellias are evergreen, they not only make for great focal points in the garden but also can decorate a deck or patio in containers. They are so versatile they can even be trained on a trellis as an alternative to a shade-tolerant vine. The classic flowers range in shape from loosely-petaled double blooms to peony-shaped and more layered formal blooms. The 3-5" blooms are found in colors including white, shades of coral, pink and red, along with many variegated colors. Some varieties are also fragrant.
Unlike their sun-tolerant, winter-blooming sasanqua cousins, japonica camellias prefer filtered shade and bloom from February until June--depending on the local climate. Most grow 6-8' high and wide, and can get even taller with age if not pruned. They prefer well-amended, fast-draining soil so water doesn't accumulate in their root zones. They prefer to be kept moist--but become drought-tolerant once established.
Camellias require little fertilizer. We recommend waiting until the plants have finished blooming before giving them their first feeding of the year. After flowering, wait for new growth to appear at the ends of branches and then feed every two months with cottonseed meal or an organic acid food through the end of September.
It's the perfect time to see our camellias in all of their blooming glory. We promise you will enjoy their spectacular flowers. But be warned, growing camellias and enjoying their flowers can be addictive!
Over the past twenty years, commercial growers have produced tomato varieties that valued shelf-life and unblemished prettiness over taste - and the result has been an almost tasteless tomato at your local supermarket (the baskets might taste as good). Put taste back on top with heirloom varieties - some can even flourish on your patio in a 7-gallon-sized container!
Heirlooms vary in their production time, so you can sequence your varieties over the summer. A vine-ripened tomato salad can be yours for the picking! These tomatoes may not look as pretty as the ones in the local supermarket - but the taste more than makes up for it.
Planting and growing directions:
The one disadvantage to heirloom varieties is that they tend to be less disease-resistant than the hybrids. If you've grown a few extra, and they all stay healthy, your non-gardening neighbors will probably be happy to take some of your great-tasting tomatoes off your hands.
Once you get your plants, if they are greenhouse-grown, harden them off for a week or so before transplanting (leave them outside for just a couple of hours the first day, then gradually increase the length of time, watering as needed). Before you transplant, amend your soil with a good planting mix, such as , or use a potting soil such as for tomatoes in pots. Plant them in the evening or on a cloudy day, and they will be less likely to droop. To make for a stronger plant, bury tomato stems up to the plant's second true set of leaves (they'll develop roots all along the buried stem).
Stake or cage as needed (depending on the variety), water as necessary, and fertilize with and you'll have a tomato crop that can't be beat!
A note to those growing tomatoes in pots on a narrow patio: you can espalier tomatoes! They won't produce as well but if it's the only way you'll have the room to grow them at all, try it - half a crop is better than being stuck with the tasteless 'tomatoes' sold in the supermarkets.
How often should I feed my lawn?
Answer:
We recommend feeding lawns every two months during the growing season. You can start off by applying a lawn food in late winter to early spring that contains a pre-emergent herbicide to help prevent crabgrass and other weeds from germinating.
After that, switch to a complete lawn food. If summer weeds become a problem, apply a weed and feed fertilizer.
Make sure to give your lawn a final feeding in fall, before it goes dormant, to keep it green through winter. If a lawn goes into the winter looking yellow, you won't be able to green it up much until temperatures warm up again.
2 lb. potatoes, peeled and quartered
6 tbsp. whole milk
1 stick butter, cubed
1 tbsp. butter for the sauce
Salt and ground black pepper
1/2 tbsp. lard or dripping
1 cup chopped onion
1 cup finely diced carrots (see substitutions below)
1 clove garlic, minced
2 cups ground or minced lamb
1 3/4 cups beef stock
1 cup chopped white mushrooms
2 tbsp. finely chopped flat leaf parsley
1 tbsp. all-purpose flour
1 cup grated cheddar cheese (if you can get an Irish cheddar, by all means, do!)

Substitutions:

Vegetables: you can also use peas, corn, mixed veggies...if you use frozen veggies, thaw first. Canned veggies are not recommended.
If you don't like mushrooms, add another cup of veggies.
You may substitute ground beef for the lamb--but then it's a Cottage Pie, not a Shepherd's Pie.
Step by Step:
Heat the oven to 375 degrees F.
Boil the potatoes until soft; then drain into a colander.
Place the milk and butter in the pan used to boil the potatoes, return to the heat and warm gently until the butter has melted.
Add the potatoes and mash. Salt and pepper to taste and keep to one side.
Melt the lard or dripping in a large deep pan.
Add the onion and carrot and fry for 5 minutes.
Add the garlic and cook for another minute.
Add the ground lamb and one-third of the beef stock to the onion and carrot mixture and cook, stirring constantly until all the meat is browned.
Add the remaining stock, parsley and mushrooms, season with salt and pepper. Cover with a lid and cook for 15 minutes.
Mash the flour into the remaining 1 tbsp. butter then add in small pieces to the ground meat sauce, stirring until all the flour has dissolved and the sauce has thickened slightly, approx. 5 mins (use more or less flour to adjust to your desired consistency).
Place the meat and sauce into an 8" X 3" deep ceramic of glass baking dish and cover with the mashed potato.
Sprinkle the grated cheese on top of the potato and bake in the heated oven for 30-35 minutes, or until the surface is crisp and browned.
Serve immediately