Lakewood
Weather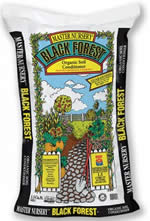 Black Forest Organic Soil Conditioner is a premium soil conditioner for roses, vegetables and lawns. Fortified with iron and nitrogen - but will not deplete soil of pre-existing nitrogen like untreated products. Loosens hard, compacted soils to improve drainage and increase moisture retention. Use as an amendment to improve soil or as a mulch to help keep the soil cool and moist.



Have a Look
Around the Site:
May
Mulch Matters
If you haven't already, apply a layer of mulch around flower beds and around trees and shrubs 2-3 inches around the base of plants. It reduces weeds, conserves moisture, and helps prevent disease.
Contact Information:
E-Mail:
Click to e-mail us.
Telephone:
(562) 804-2513
Address:
6220 Lakewood Blvd
Lakewood, CA 90712
Hours:
Monday through Friday: 7:30 - 5:30
Saturday: 8:00 - 5:30
Sunday: 9:00 - 4:30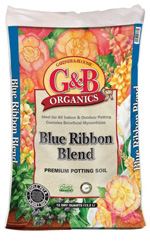 An exceptional potting soil for indoor and outdoor containers.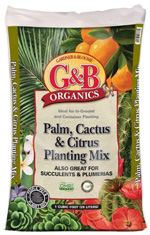 Especially formulated for the needs of palm, cactus, citrus & succulents.
Master Nursery Bumper Crop can be mixed with your native soil as a nutrient-rich amendment to grow vegetables and flowers, or can be used as an organic mulch to help retain water. With added beneficial mycorrhizae, worm castings, bat guano and kelp meal - and no harmful synthetic chemicals
Helps produce more abundant, better tasting and more nutritious vegetables.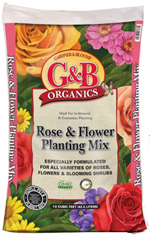 Ideal for a variety of in-ground and container planting.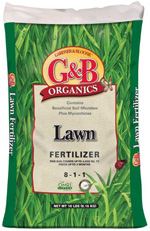 Ideal for all warm-season or cool grasses and new lawns from seed, sod or sprigs
FEATURED QUOTE :

"You know you are a hard-core gardener if you deadhead flowers in other people's gardens."
~Sue Careless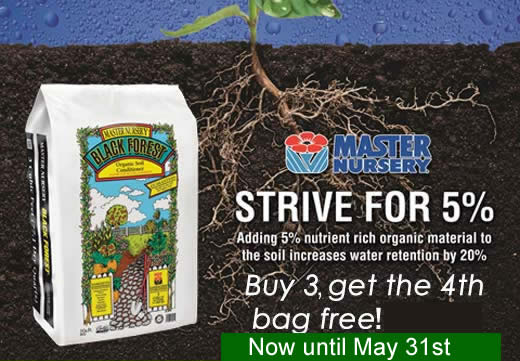 The earliest Mother's Day celebrations we know of were ancient Greek spring celebrations in honor of Rhea, the mother of the gods; the ancient Romans also had another holiday, Matronalia, that was dedicated to Juno. But those were in honor of one particular mother. England's "Mothering Sunday," begun in the 1600's, is closer to what we think of as "Mother's Day." Celebrated on the fourth Sunday of Lent, "Mothering Sunday" honored the mothers of England.
In 1907, Anna Jarvis started a drive to establish a national Mother's Day. In 1907 she passed out 500 white carnations at her mother's church in West Virginia--one for each mother in the congregation. In 1908, her mother's church held the first Mother's Day service, on May 10th (the second Sunday in May). That same day a special service was held at the Wanamaker Auditorium in Philadelphia, where Anna was from, which could seat no more than a third of the 15,000 people who showed up.
By 1909, churches in 46 states, Canada and Mexico were holding Mother's Day services. In the meantime, Ms. Jarvis had quit her job to campaign full time. She managed to get the World's Sunday School Association to help; they were a big factor in convincing legislators to support the idea. In 1912, West Virginia was the first state to designate an official Mother's Day. By 1914, the campaign had convinced Congress,
which passed a joint resolution. President Woodrow Wilson signed the resolution, establishing an official national Mother's Day on the second Sunday in May.
Many countries of the world now have their own Mother's Day at different times of the year, but Australia, Belgium, Canada, Denmark, Finland, Italy, Japan, and Turkey join the US in celebrating Mother's Day on the second Sunday of May. Britain still celebrates Mothering Day on the fourth Sunday of Lent--but they now call it Mother's Day. By any name, and at any date, it's a special day to honor a special person.
Having trouble thinking of a gift? Why not do something a little different for Mother's Day? Instead of giving her a bouquet of roses, plant her a rose garden! If she already has a rose garden--add to it! If she lives in an apartment, consider a potted rose plant--many roses will do quite well in containers (ask us for suggestions).
Why give one bouquet that will soon fade away, when you can give years of pleasure from living roses instead?
So, you've decided to design your own garden! This will prove to be an interesting journey, and if done correctly, the result will provide you and your family with an outdoor space that you can enjoy for years to come.

A garden can be many things: a tranquil retreat, an area for sports activities, a source for your own home-grown food, a multi-faceted entertainment area that complements indoor spaces or even a combination of all these things...and more.

A very important part of the initial planning phase is an honest consideration of your family's interests at present as well as an assessment of how they will likely evolve in the future. If these things are taken into consideration before anything else is dealt with, your chances of creating a garden that is able to evolve over time as your family grows and changes becomes much more likely.

Some important things to consider are:
Do you and your family enjoy spending time outdoors, or will you be happier viewing the garden from the indoor spaces?
Do you, or do you plan to, entertain a lot? Do you want to be able to use the outdoor living spaces for entertainment purposes at all times of the year?
Are there certain sports you or your family enjoy, such as croquet, badminton, swimming, basketball, horseshoes or golf?
Do you, or do you plan to, have pets? Do you envision the pets having free access to all outdoor areas at all times, or will you need a space to put them at certain times?
Do you enjoy working in the garden and will you have time to do so?
Would you use a firepit, swimming pool, built-in barbeque or fireplace?
Do you need an area for vegetables and/or fruit trees? How large should it be?
If you have small children, will they need an area for play equipment or possibly a walkway for tricycle riding?
Do you like the idea of creating "garden rooms" or would you prefer a large, expansive open area with lots of lawn?
Are there certain areas of the garden that need screening or areas that should be kept open to allow for views?
What styles of gardens are you drawn to? Are there certain plants you like or ones you don't like?
What elements are especially important to you? The sound of water? Fragrance? Shade? Hummingbirds or Butterflies? Color?
Some of these questions will be answered based on your area's size. For instance, even though you like basketball you may or may not be able to fit a half-court into your area - but perhaps a basketball hoop could be used.

Visiting local public and private gardens and looking at magazines and books can help you determine the style of garden you will prefer, while some visiting us will prove invaluable in determining your preferences in plants and garden ornaments.
Tomatoes are the favorite vegetable for home growing. Over the past years, commercial growers have produced tomato varieties that valued shelf-life and unblemished prettiness over taste--and the result has been an almost tasteless tomato at your local stores. You can put taste back on top of the list by growing your own.
Tips on Choosing Your Tomato Plants:
Height and bushiness of the plant are important, particularly for gardeners growing tomatoes in small spaces. Check to see whether the variety you select is "determinate" (bush type--produces all at once--best for small spaces) or "indeterminate" (vine type--produces throughout the season and grows in all directions).
Consider taste, size, shape, color, mildness, (acidity or non-acidity), disease resistance, and cracking resistance.
Your intended use for the tomato may dictate your selection. For instance, if you want to use your tomato crop for preserving or for making tomato paste, you'll want to select a variety that has a strong tomato flavor and lasts a long time in the refrigerator.
Depending on when you plant, you may be concerned about the "days to maturity" (the time it takes a transplant to bear ripe fruit.)
Finally, consider selecting a few unique tomato plants that you haven't tried before or a novelty variety no one else in the neighborhood grows.
Planting tips:
Choose a spot in full sun, and prepare the soil by digging it deeply with a spade and mixing in a good planting mix.
Add a good vegetable fertilizer.
Plant transplants deeply. If they're leggy, snip off the lower leaves, make a little trench with the trowel, lay the plant in sideways, and bend the stem up gently. Roots will form all along the buried stem.
Choose a staking system (such as a tomato cage or trellis).
Water deeply and continue to irrigate so the soil stays evenly moist.
Grow your own tomatoes! Your taste buds will thank you!
Tomato hornworms are the larvae of a large sphinx moth that is about the size of a hummingbird. In spring, the moth lays eggs on the underside of tomato (and related plants like pepper and eggplant) leaves. Although the hornworms are quite small when they first emerge, they are big eaters (of leaves) and grow up quickly. Usually, you won't even see this fellow until it is large--about 2 inches long and fat! They are quite distinctive, actually handsome with their diagonal white stripes and horns on the rear. However, due to their camoflage they can be difficult to find (until they've eaten a lot of leaves).
Don't be afraid of the hornworms. They look more frightening than they are. They don't bite or sting, just try to look big and ferocious. You can easily handpick to remove from your plants and just throw them away. When they are younger and smaller, use Bt (bacillus thuringiensis) as an effective management technique.
Some gardeners have a different approach to the tomato hornworm. While handpicking a hornworm, look to see if you find little white cocoons attached to its back. If you do see this, that cocoon is a pupating braconid wasp, which is a garden-friend predator. Capture the hornworm and keep it (or all of them) in a container, feeding them tomato leaves. You are creating a nursery for the braconid wasps that can then be released into your garden! These wasps will help control the hornworm population.
Other natural predators are birds and the larvae of the green lacewing. Plant your gardens to create an inviting habitat for all of these natural predators, and you'll control this voracious eater of your tomato leaves. Luckily, hornworms don't eat the tomato!
Should I fertilize shrubs before or after rain?

Answer:
That depends on whether the ground is wet before it rains. Fertilizer should never be applied to dry ground or dry plants. Chemical fertilizers can burn plants when the ground is dry, because the salts that are a by-product of the fertilizer will reach the plant cells before the water can replenish them.
Most organic plant foods need moist soil to break down and allow the beneficial microbes in them to proliferate. If the ground is already moist and you know a measurable amount of rain (at least 1/2") is coming, then apply your fertilizer before. If the ground is dry, allow the rain to replenish the soil with moisture and then apply your fertilizer. After you fertilize, make sure to water the fertilizer in so it percolates into the soil.
Makes a great Mother's Day breakfast or brunch, and it's easy enough that the kids can help make it.
What You'll Need:
1/2 cup butter, melted
3/4 cup brown sugar
1 tablespoon ground cinnamon
12 slices sandwich bread
6 eggs
1/2 cup milk
1 pinch salt
Step by Step:
Coat a 9x13-inch baking dish with melted butter.
Spread any remaining melted butter over bottom of dish.
Sprinkle brown sugar and cinnamon evenly over melted butter.
Arrange bread in two layers over brown sugar mixture.
Beat eggs, milk, and salt in a bowl; pour over bread.
Cover and refrigerate overnight.
Preheat oven to 350 degrees.
Bake in the preheated oven until golden brown, about 30 minutes.
Serve warm, with your favorite French toast toppings.