Have a Look
Around the Site:
June
Organic mulch offers tremendous advantages when placed around your garden flowers and vegetables. A 2- or 3-inch layer of mulch prevents moisture from evaporating, so less watering is needed. Mulch blocks weed growth and reduces the amount of insects and other pests.
Contact Information:
E-Mail:
Click to e-mail us.
Telephone:
(562) 804-2513
Address:
6220 Lakewood Blvd
Lakewood, CA 90712
Store Hours:
Mon.-Fri.: 7:30 to 5:30
Sat. 8:00 to 5:30
Sunday: 9:00 to 4:30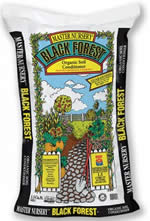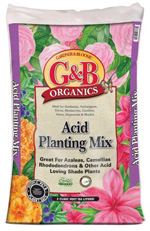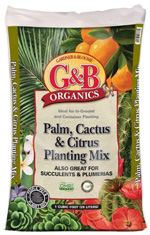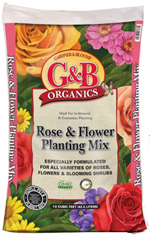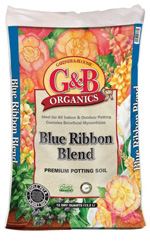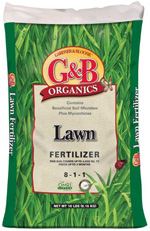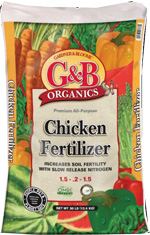 "I go to nature to be soothed and healed, and to have my senses put in order."
~John Burroughs
Spice up your Father's Day festivities with an activity or two.

Plant a fruit tree together. We suggest giving Dad a cool one in his easy chair and letting him see you sweat for a change, while you install a wonderful fruit tree. We recommend fertilizing monthly and spraying as needed with organic pesticides. Dad will be able to enjoy your tree and its fruit year after year.

Be sure to interview your father and/or grandfather. Ask questions about his birth, childhood, and what he did when he was a teenager. Find out favorite subjects in school, how he met your mother or grandmother. Inquire about his favorite job. End the interview by expressing your love for him.

Get together with a few other families and play the Father/Child Game. Divide into four father/child teams. Ask the fathers to leave the room while the children sit in chairs. Ask the same four or five questions to each child about their fathers. Bring in the fathers and ask them the same questions. Will the father and child have the same answers? Switch places and see how well the fathers know the children. Award a red rose to the winning father/child team.

Question Ideas: Favorite color, movie, candy bar, color of toothbrush, memorable moment with you, best friend, hobby, talent, food, animal, cartoon, pizza topping, ice cream topping, restaurant. Most embarrassing moment. Favorite holiday.

Have a Father's Day BBQ or picnic in your garden. Make a crown for dad and let him know he's "King" for the day. This can be a family activity--or extend an invitation to a few other families also. Make sure all the dads are given "The Royal Treatment."

We want to wish all the dads and granddads a Happy Father's Day!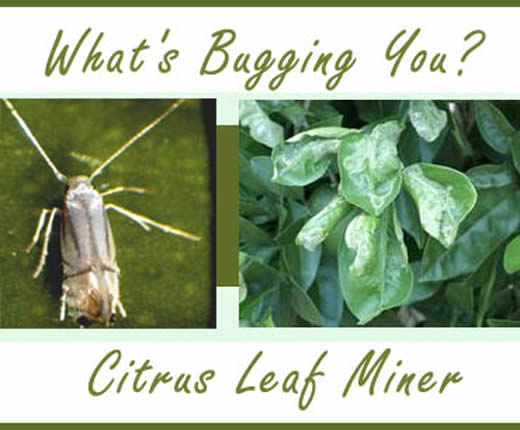 The citrus leaf miner is a common insect pest that has been showing up on our citrus trees in Southern California. The larvae are laid by tiny, minute, silvery white moths that tunnel within the leaves, leaving snaking trails of dead tissue behind. Other symptoms of infestation include curling of leaves and, in severe cases, even succulent young branches of green shoots may be attacked.
Although leaf miners don't usually demolish an entire plant, they can cause quite a bit of unsightly damage. This makes it important to start controlling this pest at the first signs of attack and following up with repeat applications to break the life cycle of this insect pest.
Citrus leaf miners tunnel between the upper and lower surfaces of leaves to lay eggs. The clear waxy trail they leave behind is unmistakable--and permanent. Once they eat a path between leaf surfaces, they drop off the leaf to pupate in the soil beneath. Then the whole process starts over again, yielding several generations of leaf miners over the course of a summer.
Controlling leaf miners is difficult, even with chemicals, because they are protected by the upper and lower leaf surfaces. We recommend treating your infected plants with an insecticide containing Spinosad, such as Monterey Garden Insect Spray. We also carry a Citrus Leaf Miner Trap Kit. This method includes a pheromone lure that attracts the male insect and ends the reproductive cycle. This is a great monitoring system to help control the bugs before they do major damage to your trees.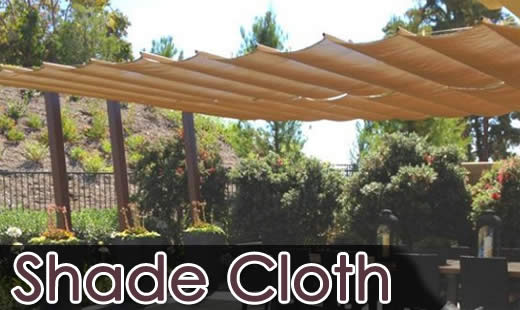 Now that the summer's heating up, it's a good time to consider adding shade. When strategically placed, shade cloth can make your patio habitable hours before the sun goes down, and your patio will cool off faster by preventing hard surfaces from heating up as much.

In your garden, shade cloth will help protect your plants from the oppressive sun, mitigating sunburn and helping more heat-sensitive plants stay alive. When used with mulch, it can significantly cut down on evaporation, helping your beds stay moist with less water.

Shade cloth comes in a variety of colors and strengths. If you'd like to use it in the garden, you probably don't want more than 40-50% shade, as your plants still need sunlight to grow. Over a patio, a heavier grade will provid e better blockage and will keep things cooler.

As far as what you will use to hold it up, that is up to you. It really depends on the layout of your yard and what you're looking for, and each option has its drawbacks and advantages. Building off your roofline and stringing it to sunken 4x4's is probably the cheapest and easiest option, but there are many others including draping over pergolas, hoophouses, or PVC or wood frames, just to name a few. With a little extra work, you can make a retractable Roman-style awning. For some ideas and How-To's, check out this pinterest page.
You don't have to live in Kansas to enjoy sunflowers in the garden! Sunflowers are easy and fun to grow. From tall varieties that reach for the sky to dwarf types that are knee-high, there's a variety to suit every gardener's needs. Since they grow very quickly, children enjoy watching them grow--and the large seeds are easy for small fingers to handle. Plus, if you buy a good eating variety, you can harvest the seeds and teach the kids to roast them for a healthy snack!
Plant in full sun, where they will not shade other plants, or plant shade-lovers around them.
Plant the seeds 1 inch deep and about 6 inches apart.
When the seedlings come up, thin them to about 18 inches apart.
Water well after planting and keep fairly moist, but not soggy, until the seeds sprout.
Sunflower seedlings will come up in one or two weeks. They will start out slowly, then speed up their growth rate. Children can be responsible for watering them, weeding around them and adding mulch around the plants.
Harvesting of sunflower heads is quick and easy--but you may need a ladder or stepstool if you are growing tall varieties. Watch the birds; when they start going after the seed heads, cover the heads with cheesecloth to protect the seeds. The seed heads will be ready to harvest when their backs are brown and dry and no traces of green remain.
Cut off the heads with a foot or two of stalk. Hang them upside down in a dry and airy place. When the seeds are dried, rub them off with your hand and store them in an airtight container. Don't wash them, as this could cause them to mold.
To roast sunflower seeds, place a single layer of raw dehulled kernels in a shallow pan. Roast in a 300 degree F oven for 30 to 40 minutes or until they are brown and crisp. Stir occasionally. Remove from the oven. One teaspoon of melted margarine may be added if preferred for each cup of seeds; stir to evenly coat. Place the seeds on absorbent paper. Salt to taste. Store in a tightly covered container.
For salted in-the-shell seeds, cover unhulled seeds with salted water in the amount of 2 quarts of water to 1/4-1/2 cup salt. Bring to a boil and simmer for 2 hours. Drain and dry on absorbent paper. Seeds may also be soaked overnight instead of boiled. Then proceed as for the roasted kernels above.
Do your last thinning on deciduous fruit trees after June drop, nature's way of getting rid of an overload of fruit. It may occur any time between early May and July but is most likely to happen in June. One day you visit your deciduous fruit tree and find a circle of immature fruit lying on the ground under the branches. You may worry if you are new to fruit trees, but don't panic! It's a natural part of the cycle. These trees often set more than double the amount of fruit they could possibly ripen properly, so they simply drop off part of it.
If you thinned out fruit on your trees earlier, you enabled the remaining fruit to grow larger and thus will have less fruit dropping now. Nevertheless, you may need to remove even more fruit than naturally drops in order to space your crop evenly down the branches. Inspect other deciduous fruit trees that are less subject to June drop and thin out their fruits also.
Clean up any fallen fruit under the tree before it has a chance to rot and spread disease. If it's healthy, chop it and add it to your compost pile (cover it with earth to keep away flies and rodents). Also water your deciduous fruit trees deeply in June and July.
What You'll Need:
1 (16 ounce) package spaghetti
1 cup chopped onion
1/2 cup chopped celery
1 teaspoon garlic powder
3 tablespoons vegetable oil
1 (26 ounce) jar meatless spaghetti sauce
1 (16 ounce) can garbanzo beans or chickpeas, rinsed and drained
1 (14.5 ounce) can diced tomatoes with garlic and onion, undrained
1 teaspoon sugar
1/2 teaspoon salt
1/2 teaspoon dried oregano
1 bay leaf
1/4 cup grated Parmesan cheese
Step by Step:
Cook spaghetti according to package directions.
Meanwhile, in a large skillet, sauté the onion, celery and garlic powder in oil until tender.
Add the spaghetti sauce, beans, tomatoes, sugar, salt, oregano and bay leaf.
Bring to a boil; cover and simmer for 10 minutes.
Remove and discard bay leaf.
Drain spaghetti; top with sauce and Parmesan cheese.
Yield: 6 servings