Have a Look
Around the Site:
March
WEED IT OR WEEP
Rains and irrigations encourage lots of winter weeds. Hoe them out before they get too big or begin to scatter seed. At this point, simply scrape them off with a scuffle hoe, early in the morning on a sunny day, so weeds quickly dry out. Though it's tempting to toss weeds in the compost pile, don't--you'll just be spreading weed seeds all over the garden.
Contact Information:
E-Mail:
Click to e-mail us.
Telephone:
(562) 804-2513
Address:
6220 Lakewood Blvd
Lakewood, CA 90712
Store Hours:
Mon.-Fri.: 7:30 to 500
Sat. 8:00 to 5:00
Sunday: 9:00 to 4:00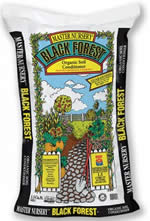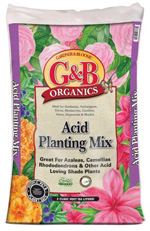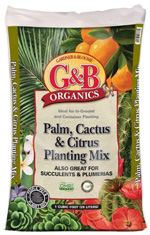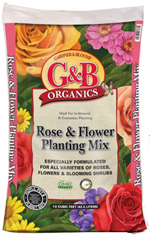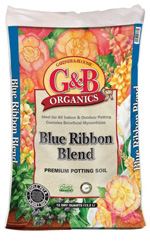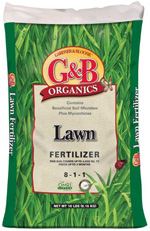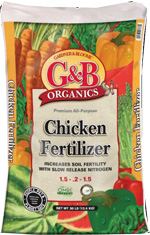 FEATURED QUOTE :

"He who plants a tree loves others besides himself."
~ Thomas Fuller

NEW ARRIVALS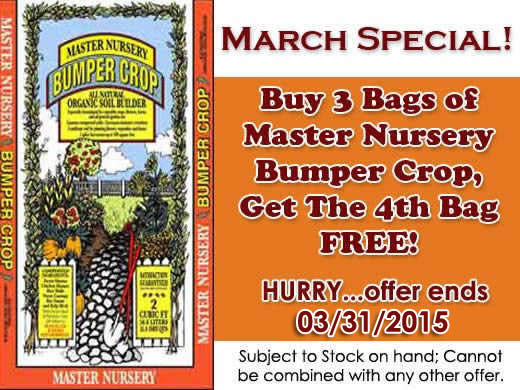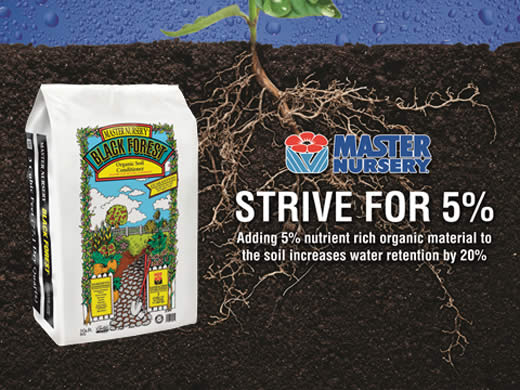 Planting
This month roses will begin their first bloom. For those of you who were waiting to select a new rose plant until you could see the actual flower, this will be the month to stop by the garden center and stroll through the roses!
Azaleas and camellias are best planted while blooming. They began their blooming in February, so March is right in the middle of their blooming season. DON'T feed your camellias until they have completed their blooming! If you do, they will drop all remaining buds and you will be so very unhappy, thinking that you killed your shrub. Fertilize to reward the plant AFTER the blooming ends.
Spring color plants are arriving! Color up your gardens with perennials and annuals. Look for perennials such as campanula, columbine, coral bells, delphinium, foxglove (digitalis), diascia, penstemon, salvia, yarrow and so much more. Great annuals to pick from include celosia, coleus, dianthus, linaria, lobelia, marigolds, nicotiana, petunias, salvias, and verbena.
There is still time for planting bulbs!
Ladies and gentlemen: Start your vegetable gardens! Such veggies as the cabbage family (cabbage, Brussels sprouts, broccoli), squash, lettuce, spinach, peppers, and cool season tomatoes will be in this month. This is also a good time not only to prune back herbs from last year, but also add in new plants such as chives, parsley, rosemary, sage, tarragon, and thyme.
Maintenance Duties
Fertilize your lawns.
Fertilize your roses.
Snails will be coming out to munch on the tender new growth. Time to purchase your favorite snail bait.
Now is the time to divide perennials such as agapanthus, callas, daylilies, rudbeckia, and daisies. Those with fuchsias can cut them back two-thirds toward the main branches. Remember to leave 2-5 leaf bud/scars for new growth.
You can begin pruning your ornamental shrubs (pittosporum, boxwood, etc.) for hedges. Wait to prune spring-flowering shrubs and trees until their blooming is over.
If you have ever wondered how to get some of the same great flavors you find in top restaurants, consider planting the secret weapon that fine cooks employ--a chef's garden. Get the most out of your garden by adding not only beauty but an endless bounty of flavor as well!
A good chef's garden incorporates the attributes of every location in the garden to produce a variety of flavorful food. Start with a boring fence line. Instead of flowering vines, consider attaching a few trellises and planting a variety of different table grapes.
To block out the neighbor's windows and create privacy, plant fruit trees. You can harvest apricots and cherries in June; nectarines, peaches, plums and pluots in July and August; and apples, pears and persimmons in September and October.
Semi-shaded areas are a great place to plant berries. If you have the room to allow them to roam, consider planting blackberries, boysenberries, and raspberries. Are you looking for something a little more formal? Consider blueberries.
Save the sunniest location for your vegetable garden. Remember to plant "fruit" and "root" vegetables for summer. Plant "leaf" and "flower" vegetables in winter. Don't forget to add a little color with tasty nasturtiums--and save some space for a crop of strawberries, artichokes, and horseradish. Are you short on space? No problem. Herbs do wonderfully in containers--and no chef should be without them. You'd perhaps be surprised how many vegetables can also be grown in containers. And don't forget dwarf fruit trees!
The key to creating a great chef's garden is to look at every available location in your garden with the eyes of a chef. The possibilities are endless and the rewards are delicious. Are you getting hungry, now? Then don't delay, start planning your chef's garden today.
Pluck a sprig of mint and crush it between your fingers and you'll release a cool distinctive fragrance not matched by any other plant. But mint doesn't just smell good--it packs a mighty punch of flavor, too.
Mint can be very invasive, so it does need caution. Given good conditions, it will happily take over your garden. But who said you have to plant it in the ground? If you want something to take over your yard (perhaps a grass alternative), one of the creeping mints can be a good choice for a groundcover. But if you want to keep mint contained, the best way is to grow it in a container. It spreads rapidly by shallow rhizomes, so if the roots can get out of an area, it will pop up elsewhere. We recommend planting mint in containers and putting them on tables where the wonderful fragrance can be closer to your nose and you can easily pluck a sprig or three, without bending. They go nicely on a sunny kitchen windowsill during winter, too.
Since mint is a shallow-rooted plant, you can plant it in low, 12-18 inch wide bowls. When the plant gets too crowded, simply cut it in half and re-pot with fresh potting soil. Keep your plants moist and feed occasionally--that's it.
Mint leaves can be harvested regularly and enjoyed. Just pinch as needed. It is best when picked early in the morning. To dry mint, cut the stalks just above the first set of leaves, as soon as the flower buds appear. Hang upside down in a dark, well ventilated room for two weeks or more.
Don't limit yourself to one kind of mint. There are dozens of varieties available and each one has its own unique flavor. Mint can be used to flavor drinks and salads, it can be made into a jelly and vinegars to flavor meats, and some, like chocolate mint, will make you think you've just eaten dessert.
So go ahead and give your energy a boost, refresh your spirit and revitalize your senses. Plant some mint today!
Among the most beautiful of all flowers, calla lilies originally came from South Africa. They are a favorite of florists and those who like to plant a cutting bed, as they make excellent cut flowers. They also look great in containers. The larger varieties can put on quite a show planted as a focal point behind lower-growing flowers, or massed to create a large color grouping.
Although they only thrive year-round outside in warm climates, they make great houseplants, and everyone can grow them year-round inside.
They can deal with anything from full sun to partial shade, with a moist, fertile, well-draining soil. They are a good choice as a gift for someone who tends to overwater plants--but they don't like to be totally drowned, so make sure you have a pot that drains well. Make sure they don't dry out while they are blooming.
After blooming has finished, don't cut the healthy foliage off; it will gather energy and nutrients to store for the next blooming season. Leaves may be removed when they yellow.
What's the best type of mulch to use in a garden?
Answer:
There are many types of mulches available; it all comes down to the look you want in your garden--natural or manicured?
For a more natural look, use shredded redwood or shredded cedar. Shredded redwood is deeper in color and mats up more, making it an excellent choice for hillsides. Shredded cedar is lighter in color and an excellent choice if you own a dog--because it also repels fleas.
For a more manicured look, use small or medium pebble bark (pine or fir) or mini mulch (also called "orchid bark").
We don't recommend large pine or fir bark, except for playgrounds. The air space is too large, so it is not very effective for retaining moisture in the soil or controlling weeds.
What You'll Need:
2 cans chunk light tuna in water, drained
1 small can black olives, drained and finely chopped
2 celery ribs, diced small
1/2 yellow onion, diced small
3 red radishes, thinly sliced and halved
2 tablespoons fresh grated horseradish (can be found in the chilled condiment section of grocery store if you don't grow your own)
4 tablespoons mayonnaise
Sliced bread
Step by Step:
In a bowl, combine all ingredients except bread.
Chill covered for at least 2 hours.
Spread mixture on bread, add a slice on top, and enjoy a delicious twist on a tuna salad favorite.
Notes: To make a tuna melt, add one slice of cheese and a tomato slice to the sandwich, and grill three minutes on each side on med-high heat in a well buttered skillet! Can also be made with salmon instead of tuna.