Have a Look
Around the Site:
February
Planting Trees and Shrubs:
It's time to get planting again. The pleasant weather is great for planting perennials, ground covers, herbs, roses, and trees and shrubs. It's also ideal for planting native plants, trees, shrubs, and perennials. And don't forget native wildflowers. They'll germinate beautifully with the winter rains.
Contact Information:
E-Mail:
Click to e-mail us.
Telephone:
(562) 804-2513
Address:
6220 Lakewood Blvd
Lakewood, CA 90712
Store Hours:
Mon.-Fri.: 7:30 to 5:00
Sat. 8:00 to 5:00
Sunday: 9:00 to 4:00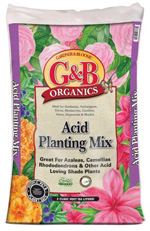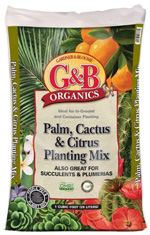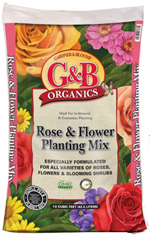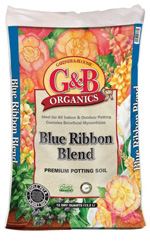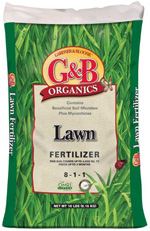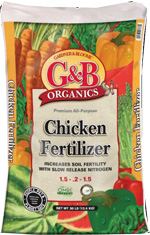 FEATURED QUOTE :

"An addiction to gardening is not all bad when you consider all the other choices in life."
~ Cora Lea Bell
It's that time of year again when all of us who are in a relationship become fixated on palpably parading our affections; Valentine's Day should be a celebration of our love, and whether we're celebrating our sweethearts, our spouses, our parents, or our friends, the gift of a floral plant is not only long-lasting, it also demonstrates a little creativity on our part. Red hearts of chocolates and bouquets of red roses are a lovely gesture, but what about this year taking a different direction?
A favorite for generations, the hydrangea evokes charm and grace with its large flower clusters and wide-ranging hues, from white to lime green to deep blue. In the Victorians' language of flowers it means "Thank you for understanding," but don't limit its gifting grandeur. A potted hydrangea in a container that you have chosen, especially tailored to the environment in which it will delight, will be a gift not soon forgotten.
One of the most graceful plants this gardener knows of is the calla lily. In the language of flowers it means beauty. Unique and lovely, the calla thrives on 70 degrees Fahrenheit, the temperature at which most households are kept. Add a sunny location, evenly moist soil, and a water soluble fertilizer and your grateful recipient will have a notable new addition to their home.
The chromatic comeliness of the primrose truly makes it a statement, again in the language of flowers, of happiness and satisfaction. As it also means "I can't live without you," the surreal multi-colored shades of lipstick pink, deep blue, gold, yellow and purple might prove the most elegant and effective way to let your special someone know just how much they mean to you.
The Florist's cineraria, or Pericallis cruentus, sports brightly colored, daisy-like flowers with medium green, arrow-shaped leaves. While the flowers may be white, pink, or red, this popular gift plant from the Canary Islands is most spectacular in the blues and fuchsias.
However, if Valentine's Day just wouldn't seem right to you without the gift of roses, why not give a miniature tabletop version? A symbol of love, passion and perfection, the rose has earned its place on this holiday as it has been an emblem of love since ancient times.
Whatever you want to say, and however you choose to express it, we hope that you'll consider our suggestions for Valentine's Day alternatives that will truly make this year a memorable one for all of your loved ones.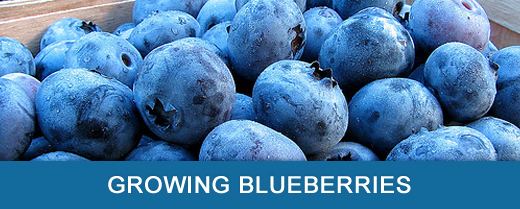 Blueberries are one of the healthiest fruits around; they are low calorie, almost fat free, packed with vitamin C, antioxidants and dietary fiber--and they taste wonderful. As if that weren't enough, they can add striking beauty to your garden. Whatever your reason for growing them, blueberries will work very well in your landscape plans. In addition to the fruit they produce, they have beautiful bell-shaped blooms in spring, handsome glossy foliage in the growing season, striking fall color and bright red stems in winter.
Blueberries are easy to grow, require little care and are seldom bothered by pests. They can vary in size from low ground-covering varieties to large bushes ranging 4-6 ft. high. Their versatility allows them to be used as background shrubs or as border plants. They even make excellent hedges, if spaced correctly. If you are limited in space or just have a patio, consider planting them in containers.
Different varieties of blueberries produce different sizes of fruit, with flavor ranging from tart to very sweet. Larger fruiting varieties produce fruit perfect for fresh eating and large desserts, while smaller fruiting varieties are better for adding to cereals, muffins and pancakes. Be sure to select different varieties to lengthen your harvest season from June until the end of August. For blueberry lovers, we suggest at least two plants per family member.
Blueberries can tolerate full sun in milder summer climates but prefer partial shade in the afternoon. They prefer a light, airy acid soil, so adding 50% peat moss to each hole is highly recommended. Blueberries like to stay moist but not wet. If your soil does not drain well, consider building a raised bed to plant them in. Feed with an acid plant food in spring and midsummer for best results.
Blueberries can be planted as close as 2-1/2' apart if a solid hedge is desired or up to 6' apart if you want to grow them as individual specimens. Just make sure you have access to them so you can get at those tasty, juicy berries!
We love blueberries and invite you to add them to your garden. We have a nice selection of varieties that grow well in our local area. Stop by soon and one of our garden experts will help you select the perfect variety for your family!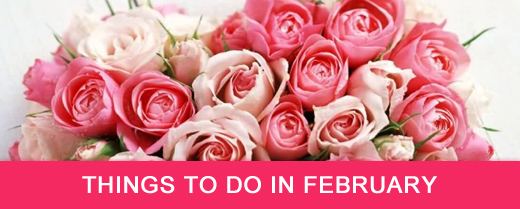 Choose and plant camellias, azaleas and Chinese magnolias
Purchase clivias.
Plant gerberas and gladioli.
Plant asparagus from bare-root.
Prune kiwi vines.
Cut back fuchsias once they begin to grow.
In coastal zones: prune begonias, ginger, cannas, asparagus ferns, ivy and pyracantha.
Deadhead cool-season flowers to keep them blooming.
Propagate running bamboo in coastal zones.
Continue to fertilize citrus trees in coastal zones.
Continue to fertilize epiphyllums.
Fertilize avocado trees in coastal zones.
Feed deciduous fruit trees.
Fertilize roses.
Fertilize fuchsias.
Fertilize cineraria to promote blooms.
Fertilize cane berries as they begin to grow.
Keep roses and bulbs well-watered.
Bait for slugs and snails.
Protect cinerarias from leaf miners, aphids, and slugs and snails.
Mulch young avocado trees.
Don't forget Valentine's Day!
What's the difference between leafy veggies, flower veggies, root veggies, and fruit veggies?
Answer:
Leafy vegetables include "leaf-type" vegetables such as cabbage, chard, kale, lettuce and spinach, whose leaves are edible.
"Flower-type" vegetables are ones such as broccoli, Brussels sprouts, and cauliflower, whose "flower" is eaten instead of leaves.
"Root-type" vegetables are those such as beets, carrots, radishes and turnips, whose roots are the edible part of the plant.
"Fruit vegetables" are botanically fruits but treated as vegetables in a culinary sense. These include tomatoes, peppers, and squashes.

Now you are fully equipped to "enlighten" friends with this incredible information when you find yourself at a loss for subject matter at the next dinner party you attend.
What You'll Need:
1/2 cup unsalted butter, softened
1 1/2 cups sugar
2 eggs
2 tablespoons cocoa powder
2 ounces red food coloring
2 1/2 cups all-purpose flour
1 teaspoon salt
1 cup buttermilk
1 teaspoon vanilla extract
2 ounces water
1 teaspoon white vinegar
1 teaspoon baking soda
Cream Cheese Frosting:
1 (8 ounce) package cream cheese, softened
1/2 cup unsalted butter, softened
1 1/2 cups powdered sugar
1 teaspoon vanilla extract
Step by Step:
Preheat the oven to 350 degrees. Grease 12 cupcake cups or line with paper liners.
Cream butter and sugar until fluffy.
Add eggs and blend well.
Make a paste of cocoa and food coloring and add to the butter mixture.
Sift flour and salt together into this mixture.
One at a time, add the following ingredients: buttermilk, vanilla, and water.
In a small bowl, combine the vinegar and the baking soda. Fold it into the cake batter. Make sure it's incorporated, but don't beat it.
Pour the batter into the cupcake cups. Bake for 15 to 20 minutes, until the cake springs back when touched.
Remove from oven and let cool for about 10 minutes, then turn out of pan and onto a rack to finish cooling completely.

Cream Cheese Frosting:


Blend together the following: 1 (8-ounce) package cream cheese, softened, 1/2 cup unsalted butter, softened, 1-1/2 cups powdered sugar, and 1 teaspoon vanilla extract. Blend until smooth.