Have a Look
Around the Site:
January
Planting Trees and Shrubs:
It's time to get planting again. The pleasant weather is great for planting perennials, ground covers, herbs, roses, and trees and shrubs. It's also ideal for planting native plants, trees, shrubs, and perennials. And don't forget native wildflowers. They'll germinate beautifully with the winter rains.
Contact Information:
E-Mail:
Click to e-mail us.
Telephone:
(562) 804-2513
Address:
6220 Lakewood Blvd
Lakewood, CA 90712
Store Hours:
Tuesday, Christmas Eve, 12/24 - 7:30 to noon

Wednesday, Christmas Day, 12/25 - Closed

Thu, 12/26 - 7:30 to 5:00

Tuesday, New Year's Eve, 12/31 - 7:30 to 2:00

Wednesday, New Year's Day, 1/1 - Closed

Thu, 1/2 - 7:30 to 5:00
Featured Quote:

"I am writing in the garden. To write as one should of a garden one must write not outside it or merely somewhere near it, but in the garden."
~ Frances Hodgson Burnett
New Arrivals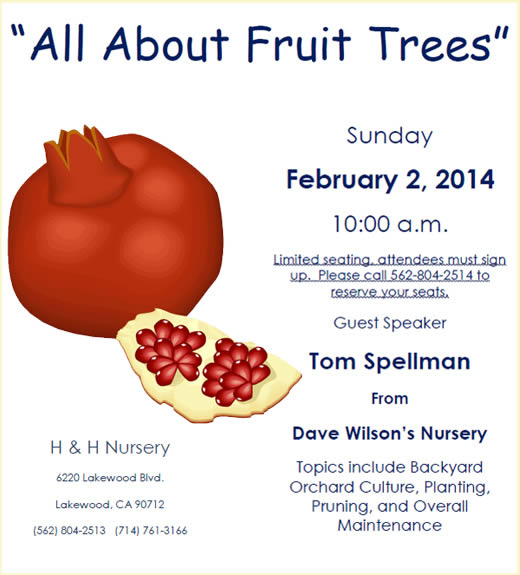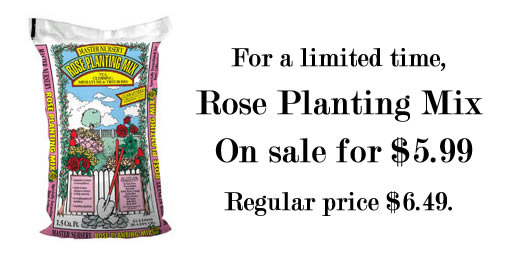 Download 2014 Rose List Pulp (Excel-xlsx)
Download 2014 Rose List Pulp (PDF)
If you are looking for the perfect flower to bridge the gap between winter and summer, consider the primrose. Like a ray of sunshine on a damp and gloomy day, primroses (primula) provide early spring blooms in almost every color of the rainbow.
They prefer cool temperatures and moist, rich, well-draining soil (with lots of compost). Primroses can tolerate full sun in spring but definitely prefer afternoon shade once temperatures get warmer. They can easily be grown indoors during winter, provided that you maintain cool night temperatures in your home (below 65 degrees), filtered sun and moist soil.
The most popular types of primroses include English primroses (Primula vulgaris/polyanthus), Fairy primroses (Primula malacoides) and German primroses (Primula obconica). All are heavy bloomers and well suited for garden planting or in containers.
Originally from England, most English primroses now are grown along the Pacific Coast. They produce large clusters of flowers above the foliage, with dwarf varieties just a few inches above the foliage and taller hybrids growing up to one foot above the foliage. They are available in almost every color shade.
German primroses are often called perennial primroses, since they can often come back to re-bloom the following season. They have larger rounded leaves, and grow up to 12 inches high, with taller flower stalks. The flowers come mostly in shades of red, rose and salmon.
Fairy primroses have a more delicate look, with smaller leaves and flower clusters on 6-12" stalks above the foliage. They generally are available in color shades of pink, lavender and white.
So if the winter blues are getting you down, chase them away with some perfect primroses!
All bear fruit on two-year-old wood, except for the ever-bearing raspberries that also fruit on first year growth. These are also called two-crop raspberries because they bear a late summer or fall crop on the first year growth and a second crop the following spring on the two-year-old wood.
Different types of wood? What's that all about? Ok, it may help clear up a lot of confusion about blackberry and raspberry culture if one remembers that after flowering and fruiting, any cane that bore fruit dies back to the crown. All the new growth will rise out from primary buds just below the soil line.
Now here's the good news, blackberries, raspberries and any other favorites will thrive in most locations and soil types, but good drainage is desirable with most varieties. Just give them some room to ramble because they do like to spread out. As far as cold-hardiness goes, raspberries tolerate very cold temperatures better than blackberries.
Most berries like being fed at blooming time, with a follow-up feeding in early fall after the plants have finished fruiting. Just use a well-balanced fruit food. They prefer staying moist, and should be watered regularly if rainfall is insufficient.
The new canes that grow out each spring will not bear fruit until the following summer when they are two years old. After harvest, the two-year-old fruiting canes will start to die back and should be removed as close to the ground as possible without injuring the new canes.
In mild climates berries can be trained to stakes or trellises in late summer or early fall, after the fruiting canes have been removed. In colder climates, the canes should be left on the ground over winter--making them less likely to be damaged by cold. The ideal time to "spring train" is after the danger of freezing weather and before the leaf buds begin expanding.
We have berry plants that grow well in our local area. The bottom line is that all berries are easy to grow and they taste great. So don't stress about all your different choices. Just plant some berries and enjoy!
Nothing is more beautiful in the garden than a large display of cyclamen. They are among the best fall-blooming plants. You can use them in pots on tables, by the front door, or planted in a nice shady spot outdoors before the frost arrives. They are great for atriums.
The flowers resemble a butterfly fluttering above the plant. The foliage is in the shape of a heart and they grow in a mound over the pot. There are miniatures varieties for small spots and the common larger plants for the table or garden. The foliage color can be green to silver and every combination in-between. The flower color ranges from white to pink, red, lavender and some multi colored. Some varieties can also have frilly flowers or smooth edges. Hint, a great gift plant for someone with a cool home during the winter.
A few notes on growing cyclamen:
General:
• Try to keep water away from the crown area (they can get crown rot).
• Do not bury them too deep; keep the top of the tuber just slightly above the soil line.
• Keep your plants well fed; feed every couple of weeks while they are in full leaf.
• Pull out the stems that have gone by. Hint! Bend the stem down towards the foliage and quickly pull the stem out. It will snap free from the plant. Never leave old flower stems on the plant as they will rot and kill some of the leaves next to them.
• Pick a few flowers to go into a bud vase. They are lovely and last quite well.
• As the flowers begin to fade, gradually allow the plant to dry out for 2-3 months; do not feed during this time.
• Resume feeding when new growth appears. Repot at this time in a container 2 inches larger.
Outdoors:
• Cyclamen like cool weather (that's why they make great winter-bloomers). That means outdoors in a shady to semi-shady spot. If you have a spot that is full shade in summer and gets more light in cooler weather, that is ideal.
• Make sure they are planted in a well-draining area.
• They like cool weather--but not severe cold. Some are more hardy than others, but most need some protection against cold.
Indoors:
• Pick a cool spot. Make sure they have good air circulation, but keep out of cold drafts and hot, dry air.
• High humidity, especially during winter, is very important. Try putting the cyclamen on a tray of water with a layer of pebbles to form a shelf for pot to sit on. Don't put the cyclamen itself in the water. You want humidity around the plant, not soggy soil.
• Let the cyclamen have plenty of light in winter; sunburn is rarely a problem. In summer keep it in indirect light.
• Repot when the tuber fills the existing pot; it's best to repot it while it's dormant. Use a pot just a little larger than the old pot.
How should you prune a Japanese maple?
Answer:
Japanese maples can be lightly tip-pruned during the summer months to control new growth or runaway water shoots, but save the major pruning for winter, when the tree is fully dormant. Do not prune after the leaf buds start swelling, because the tree can bleed quite severely and become weakened.
All Japanese maples have "eyes" on the branches, where the leaves were attached during the growing season. These "eyes" are small half moon swellings, spaced every 1-3" along the branches. Each "eye" faces a different direction, rotating along the branches.
Pruning 1/4" above a particular eye will make the tree branch out in that direction the following year. You can control the shape and direction of the tree each year simply by deciding which eyes to prune above.
Avoid pruning beyond the previous year's cuts. Always allow at least 2 "eyes" of new growth each year to remain on the tree. Pruning more severely can lead to knurled and stunted growth, with many tiny shoots coming out from the same spot. If a large branch needs to be pruned to thin out the tree and allow more light, prune it completely off. Make sure to seal all cuts larger than 1/2" in diameter with a pruning sealer.
What you need:
2 cups cubed cooked chicken or turkey breast
1 cup diced eating apples
1/2 cup diced celery
1/4 cup raisins
2 tablespoons chopped green onions
1/3 cup mayonnaise
1 tablespoon sour cream
1 teaspoon fresh lemon juice
1/4 teaspoon salt
1/4 freshly ground black pepper
1/8 teaspoon ground cinnamon
Step by Step:
Combine first 5 ingredients in a large bowl.
Combine mayonnaise and remaining ingredients in a second bowl, stirring well with a whisk.
Add the mayonnaise mixture to the large bowl, tossing well to coat.
Yield: 4 servings